Sale: 328 / Rare Books, Nov. 19./20. 2007 in Hamburg

Lot 91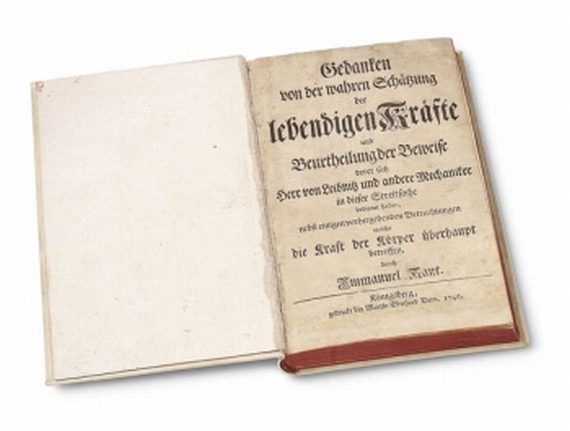 91
Gedanken von der wahren Schätzung ... 1746.
Estimate:
€ 6,000 / $ 5,940
Sold:

€ 6,960 / $ 6,890
(incl. 20% surcharge)
Kant, I.,
Gedanken von der wahren Schätzung der lebendigen Kräfte und Beurtheilung der Beweise derer sich Herr von Leibnitz und andere Mechaniker in dieser Streitsache bedient haben, nebst einigen vorhergehenden Betrachtungen welche die Kraft der Körper überhaupt betreffen. Mit
2 gefalt. Kupfertafeln.
Königsberg, M. E. Dorn 1746. Spät. Pgt. mit goldgepr. RTitel. 8vo. Titel, 8 Bll., S. 3-240.
Warda 1. - Goedeke V, 2, B1. - Ziegenfuß/Jung I, 614. - Neufforge S. 557. - DSB VII, 226. - Dt. Museum, Libri rari S. 151. -
Seltene erste Ausgabe von Kants Erstlingsschrift
, in der er versucht "den Streit, der zwischen Leibniz einerseits und Descartes und Euler andererseits bestand, ob nämlich die Kraft des bewegten Körpers in der Formel mv², d. h. Produkt aus Masse und Quadrat der Geschwindigkeit, oder in der Formel mv, d. h. Produkt und Masse und einfacher Geschwindigkeit, adäquat ausgedrückt werde, durch einen Vermittlungsvorschlag zu erledigen" (Ziegenfuß/Jung). - Das Titelblatt nennt 1746 als Datum, die letzten Bogen erschienen jedoch erst 1749. - Tlw. leicht stockfl., Titel (gebräunt) und Tafeln etw. ausgebessert bzw. hinterlegt.
Very rare edition of Kant's first work, in which he tries to settle a dispute over the measurement of forces between Leibniz on the one hand and Descartes and Euler on the other
.
2 folding engr. plates. Later vellum with gilt lettering. - Partly slightly foxed, title and plates partly repaired.
91
Gedanken von der wahren Schätzung ... 1746.
Estimate:
€ 6,000 / $ 5,940
Sold:

€ 6,960 / $ 6,890
(incl. 20% surcharge)
You might also be interested in
Immanuel Kant - lots sold by Ketterer Kunst