Sale: 340 / Rare Books, May 19./20. 2008 in Hamburg

Lot 8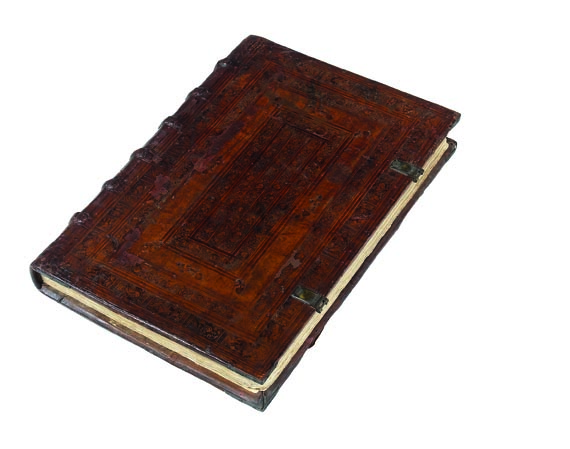 8
Anicius Manlius S. Boethius
Consolatione. 1476
Estimate:
€ 20,000 / $ 23,400
Sold:

€ 18,000 / $ 21.060
(incl. 20% surcharge)
Lot description
Boethius, A. M. S.,
De consolatione philosophiae. Mit Kommentar des Pseudo-Thomas de Aquino. Mit zahlr.
rot eingemalten Lombarden
. Nürnberg, Anton Koberger, 12. November 1476. Kalbleder d. 16. Jhs. über Holzdeckeln mit reicher Blind- und Rollenpräg. (Köpfe, biblische Gestalten). Folio. 139 Bll. (st. 140, ohne d. l. w.). Got. Type, rubriziert. 2 Spalten, 47 Zeilen.
GW 4526. - Hain/Cop. 3370. - Goff B-771. - BMC II, 413. - BSB B 596. - Polain 725. -
Seltene erste Ausgabe mit dem Kommentar
, kein Exemplar im Jahrbuch der Auktionspreise. Insgesamt die fünfte Ausgabe (ed. princeps um 1471). -
Gutes und sehr breitrandiges Exemplar des berühmten Werkes
, das zu den meistgelesensten und beliebtesten Schriften des Mittelalters gehört. "Die Trostschrift gehört zum Schönsten, was am Ausgang des Altertums zu Pergament gebracht worden ist. Sie stammt von einem Mann, der gleichermaßen sicher auf dem Boden der klassisch-griechischen wie der klassisch-lateinischen Bildung stand und der wegen seiner reinen, durch Eleganz und Korrektheit bestechenden Sprache als der letzte Klassiker gilt." (KLL) - Boethius, der als Kanzler des Ostgotenkönigs Theoderich in einen Intrigenverdacht hineingezogen wurde, schrieb das Werk im Gefängnisturm von Pavia, wo er nach mehrmonatiger Haft um 524 ohne Gerichtsurteil hingerichtet wurde. Dem zwischen Hoffnung und Verzweiflung schwankenden Christen erscheint die Philosophie in allegorischer Gestalt einer majestätischen Frau, um ihm die Augen zu öffnen für das eigentliche Ziel des Menschen, die Erkenntnis der Wahrheit. In fünf Büchern schildert Boethius dieses Zwiegespräch mit der Philosophie und behandelt darin die grundlegenden Fragen einer philosophischen und theologischen Gotteslehre. - Vorlieg. Exemplar auf dem unbedruckten siebten Blatt mit einer
zeitgenöss. Abschrift des Briefes "Epistola de fortuna" von Aeneas Silvio Piccolomini
(Pius II.) an den böhmischen Diplomaten Prokop von Rabenstein, hier überschrieben
De fortuna somnium
(eine Traumerzählung über das Glück). Das eng geschriebene Manuskript in einer sauberen humanistischen Kursive mit insgesamt 156 Zeilen füllt nahezu 2 Folioseiten und nimmt inhaltlich Bezug auf das zweite und vor allem dritte Buch der
Consolatio philosophiae
, in dem das Glück behandelt wird. Der gelehrte Papst schrieb den bekannten Brief am 26. Juni 1444, gedruckt wurde er erstmals 1471 bei Arnold Therhoernen in Köln. - Vereinz. sorgfältig restaurierte Eck- oder Randläsuren, ca. erste 25 Bll. mit durchgeh. kl. Wurmlöchern (unauffällig hinterl.), ca. erste 6 Bll. mit restaur. Feuchtigkeitsspuren; Vorsätze stilgerecht erneuert. Rücken restauriert. Insgesamt jedoch gutes Exemplar mit breiten Rändern (Blattgr. 40,7 : 27,7 cm) und einigen zeitgenöss. Marginalien,
selten so komplett mit den meist fehlenden 4 (von 5) weißen Blättern
.
Fifth edition, the first with commentary by Pseudo-Aquinas. 139 leaves, lacking last blank, but including the mostly lacking other 4 blanks. One of these with a manuscript by contemp. hand, a complete copy of Aeneas Silvius Piccolomini's letter "Epistola de fortuna" (written 1444, first printed 1471 in Cologne), in a small and neat humanist cursive, together 157 lines written on recto and verso. 16th cent. calf over wooden boards, richly blind- and rollstamped (heads, biblical figures), clasp rests. - Here and there skilful restored defective pieces to corner or margins, first 25 leaves with small wormholes (unobtrusively backed), first 6 leaves with restored traces of damp, endpapers renewed, spine restored. In general good copy with broad margins (sheet size 407 : 277 mm) and some contemp. marginalia.
8
Anicius Manlius S. Boethius
Consolatione. 1476
Estimate:
€ 20,000 / $ 23,400
Sold:

€ 18,000 / $ 21.060
(incl. 20% surcharge)
You might also be interested in

Anicius Manlius S. Boethius - lots sold by Ketterer Kunst