Sale: 405 / Rare Books, May 27./28. 2013 in Hamburg

Lot 470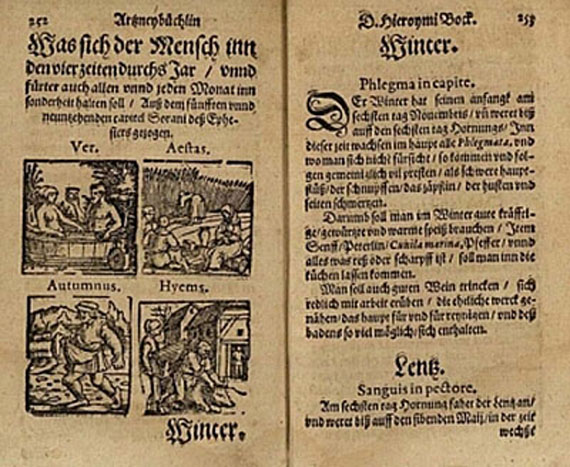 470
Practicierbüchlein (1589)
Sold:

€ 420 / $ 491
(incl. 20% surcharge)
Lot description
[Dryander, J. eigentl. Eichmann, Practicierbuechlin. Außerlesener Artzeneystueck, Wie alle leibliche Gebrechen unnd Kranckheiten des Menschen durch natuerliche Mittel curiert und geheilt werden moegen]. Mit 44 kl. Holzschnittvignetten . Frankfurt, M. Lechler für Chr. Egenolff Erben 1589. Neuer Pergament unter Verwendung eines alten Manuskriptes. 8vo. S. 3-264, 2 Bll. Register.

Seltenes, mehrfach aufgelegtes berühmtes Werk zur Volksmedizin. Behandelt u. a. Augen-, Ohr- und Zahnschmerzen sowie andere alltägl. Krankheiten und Behandlungen, mit z. Tl. amüsanten Illustrationen, darunter zum Krankenbett, Bad, Schlafen, Stuhlgang, Erbrechen, Aderlaß u. v. a. - Die letzten 37 Seiten enthalten H. Bocks Artzneybuchlin mit Gesundheitsempfehlungen für jeden der 12 Monate und einer zugehörigen Monatsabbildung. - Ohne das Titelblatt. - Tlw. leicht gebräunt und wasserrandig, Innendeckel mit Besitzerstempel und Exlibris.

VD 16, E 670. - BM STC, German Books S. 255. - Nicht bei Adams, Durling, Waller, Wellcome.

Scarce copy on folk medicine. With 44 woodcut illustrations. New vellum using an old manuscript. - Lacking title. Slightly browned and waterstained, pastedown with owner's stamp and ex libris.


470
Practicierbüchlein (1589)
Sold:

€ 420 / $ 491
(incl. 20% surcharge)
You might also be interested in

Johannes Dryander - lots sold by Ketterer Kunst