Sale: 353 / Rare Books including Marine Art, May 18. 2009 in Hamburg

Lot 1192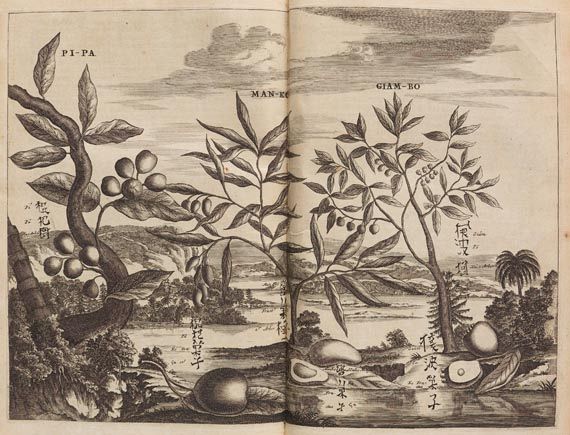 1192
Gedenkwürdige Verrichtung. 1674
Estimate:
€ 1,000 / $ 1,160
Sold:

€ 1,056 / $ 1.224
(incl. 20% surcharge)
Dapper, O.,
[Gedenkwürdige Verrichtung der Niederländischen Ost-Indischen Gesellschaft in dem Kaiserreich Taising oder Sina ... Als auch die dritte Gesandtschaft .... Hierbey ist gefüget eine ausführliche Beschreibung des gantzen Sinaischen Reichs ... ]. Tle. II und III (von 3) in 1 Bd. Mit
21 Kupfertafeln
(14 doppelblattgr. bzw. gefalt.) und
43 Textkupfern.
Amsterdam, J. von Meurs 1674-76. Ldr. d. Zt. mit RSch. und goldgepr. Deckelvignette und Initialen "H V M". Folio. Titel, S. 3-164 S., 4 Bll.; S. 211-336, 76 S., 2 Bll.
Cordier I, 28 und III, 2349. - Tiele 304 Anm. - Vgl. Griep/Luber 316, Lipperheide Le4, Nederl. Scheepvaart Mus. I, 499 und Möllendorff 2001. - Erste deutsche Ausgabe von Dappers berühmter Landeskunde von China. Das vorlieg. Exemplar enthält die
Beschreibung des Keyserthums Sina oder Taising. Beschrieben durch O. Dapper
sowie
Die Dritte Gesandschafft an den Kayser von Sina oder Taising, und Ost-Tartarien ... verrichtet ... durch P. von Hoorn. -
Die Kupfer zeigen versch. Pflanzen, Vögel, religiöse Zeremonien und Tempelszenen, Trachten, Waffen und Geräte sowie Grundrisse von Häusern und Pagoden u. v. m. - Ohne den ersten Teil mit dem Bericht zur zweiten Gesandtschaft (S. 1-208). - Tls. etw. gebräunt und stockfl., ca. 5 Taf. mit ergänzten Ausrissen (tls. größerer Bildverlust), ca. 6 Taf. mit hinterl. Einrissen (3 mit Knitterspuren), ca. 5 Textbll. mit hinterl. Randläsuren, Vorsatz gestempelt, Buchblock gebrochen. Einbd. beschabt, Gelenke eingerissen, Kap. mit Fehlstellen.
First Geman edition of Dapper's famous work on China's geography. With 21 copper plates (14 double page and folding) and 43 coppers in the text. Contemp. calf with label and gilt-tooled vignette and initials "H V M". - Lacking the first part with the report on the second mission (pp. 1-208). - Somewhat browned and foxed in places., ca. 5 plates with mended tears (some larger, loss of image), ca. 6 plates with mended tears (3 with crease marks), ca. 5 text ll. with mended marginal defects, endpaper stamped, bookblock broken. Binding scraped, joints slightly torn, spine ends chipped.
1192
Gedenkwürdige Verrichtung. 1674
Estimate:
€ 1,000 / $ 1,160
Sold:

€ 1,056 / $ 1.224
(incl. 20% surcharge)
You might also be interested in
Olfert Dapper - lots sold by Ketterer Kunst