Sale: 405 / Rare Books, May 27./28. 2013 in Hamburg

Lot 48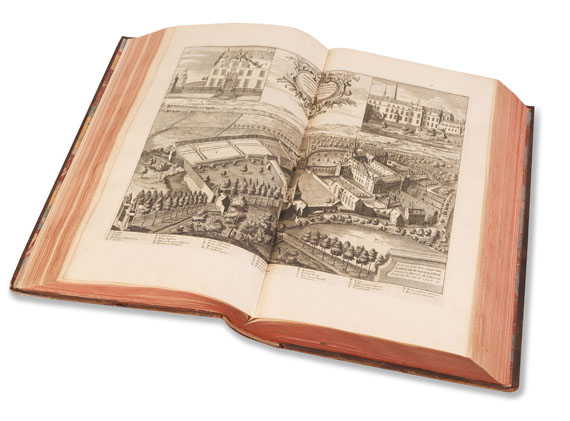 48
Duche de Brabant + Le Roy, 3 Bde., 1724
Estimate:
€ 6,000 / $ 7,020
Sold:

€ 5,760 / $ 6.739
(incl. 20% surcharge)
Lot description
Sanderus, A., Le grand theatre sacré du Duche de Brabant. Contenant la description generale & historique de l'eglise metropolitaine de Malines & de toutes les autres eglises chathedrales, collegiales, & paroissiales .. qui se trouve dans l'Archevêché de Malines, les Evêches d'Anvers & de Bois-le-Duc comme aussi de ceux qui sont au Wallon-Brabant. 4 Tle. in 2 Bdn. Mit 4 gest. Titelvignetten (wdh.), 1 gest. Frontispiz , 279 Kupfertafeln (davon 26 Porträts; 78 gefalt. bzw. doppelblattgr.), 5 Textkupfern und 3 Kupferkarten (st. 4; 2 gefalt.). Den Haag, Chr. van Lom 1729. Prachtvolle zeitgenöss. Lederbände mit 2 RSch. und reicher RVerg. sowie dreifachen goldgepr. Deckelfileten. 46,5 : 29 cm. 3 Bll., 394 S., 1 Bl., 40 S.; 1 Bl., 212 S., 1 Bl., 134 S.

Erste Ausgabe dieses monumentalen Ansichtenwerkes in der französ. Übersetzung von J. Le Roy, wesentlich seltener als die latein. Orig.-Ausg. von 1658 und um zahlr. Kupfer vermehrt. Der belgische Historiograph Sanderus (1586-1664) "besaß umfassende Kentnisse auf dem Gebiete der belgischen Geschichte, Geographie und Topographie" (ADB XXX, 345). Das vorlieg. Werk umschreibt die vier Bistümer Malines, Brüssel, Antwerpen und Bois-le-Duc. Die Tafeln (tlw. mit mehreren Kupfern auf 1 Taf.) zeigen überwieg. Ansichten der Klöster, Abteien und Kirchen aus der Vogelperspektive, Innenansichten, Porträts, Siegel, Wappen und Grabsteine. - Ohne die letzten 14 S. mit dem Register (vgl. Bibl. Belgica S. 320/21). - Bibl. Belgica V, 319 T 57. - Brunet II, 1699.
Dabei: Le Roy, J., Le grand theatre profane du Duché de Brabant .. 2 Tle. in 1 Bd. Mit gest. Titelvignette, 7 gest. Wappentafeln, 1 gest. Münztafel, 67 Kupfertafeln (mit 183 Ansichten und 5 gest. Plänen) sowie 4 Wappenkupfern im Text. Den Haag, Ebd. 1730. Ldr. d. Zt. mit RVerg. und RSch. Folio. 2 Bll., 64 S.; 2 Bll., 151 S. - Sehr schönes Werk über Brabant, geschätzt wegen der reizvoll ausgeführten Ansichten von Städten, Burgen, Schlössern und Landschaften. - Ohne die letzten 6 Bll. mit Städte- und Familienverzeichnis sowie Errata-Liste. - Bibl. Belgica III, 854. - Brunet II, 1699. - Vgl. Funck S. 352.
Zustand für beide Werke: Nur vereinzelt gering stockfl., tlw. etw. gebräunt (2 Kupfer stärker). Einbde. stellenw. etw. beschabt und etw. bestoßen, 3 Kap. mit Fehlstellen. Insgesamt schönes, wohl erhaltenes Exemplar, sauber und mit kräftigen Abdrucken der Kupfer, in drei prachtvollen Foliobänden.

First edition of this monumental work with views. French translation by J. Le Roy, more scarce than the Latin orig. edition from 1658 and increased by numerous engravings. 4 parts in 2 vols. With 4 engr. title vignettes (rep.), 1 engr. frontispiece, 279 copper plates, 5 coppers in the text and 3 copper maps. Contemp. calf with 2 labels and rich gilt spine and triple gilt fillet borders. - Lacking last 14 pp. with register.
The work attached is a very nice work on Brabant, valued for its appealingly executed views. With engr. title vignette, 7 engr. armorial plates, 1 engr. plate with coins, 67 copper plates (with 183 views and 5 engr. plans) as well as 4 armorial coppers in text. Contemp. calf with gilt spine and label. - Lacking last 6 ll. with register of towns and families as well as errata list.
Condition of both works: Somewhat browned in places (2 coppers stronger), minor isolated foxings. Bindings scraped in places and somewhat scuffed, 3 spine ends chipped. All in all well-preserved hardly stained copies with coppers in strong impressions.


48
Duche de Brabant + Le Roy, 3 Bde., 1724
Estimate:
€ 6,000 / $ 7,020
Sold:

€ 5,760 / $ 6.739
(incl. 20% surcharge)
More Images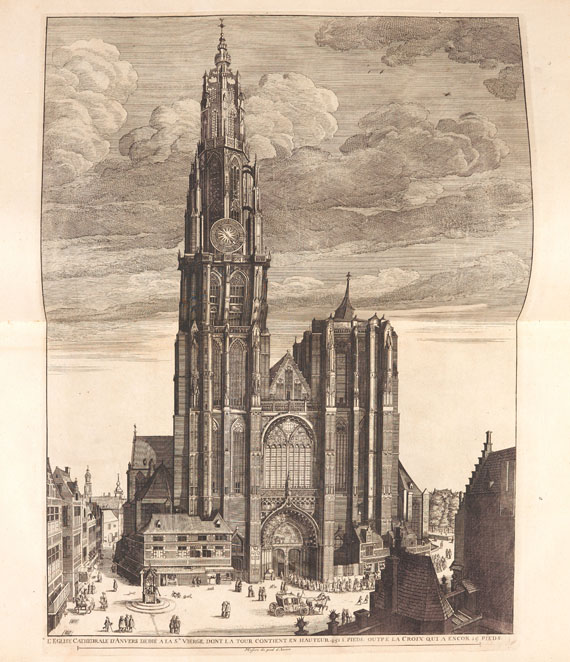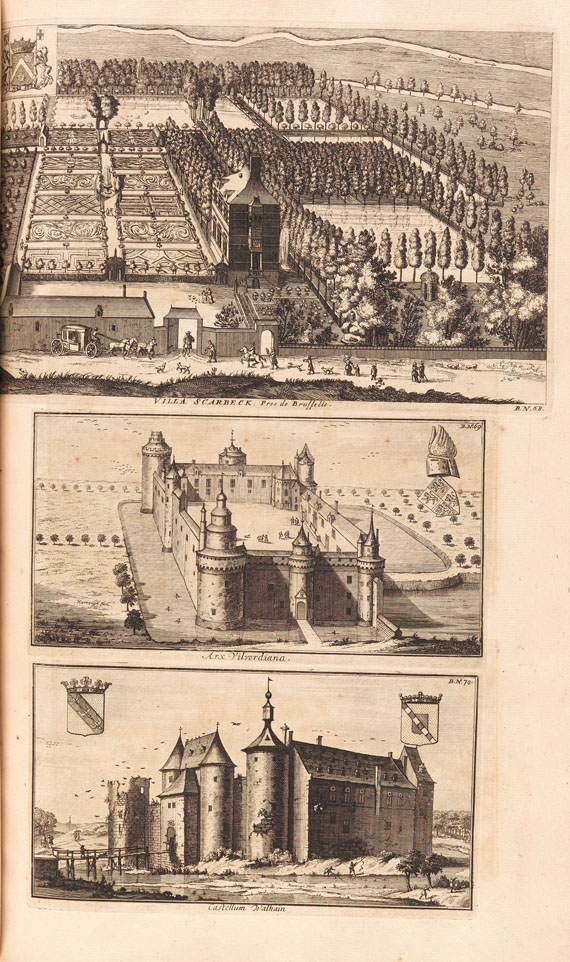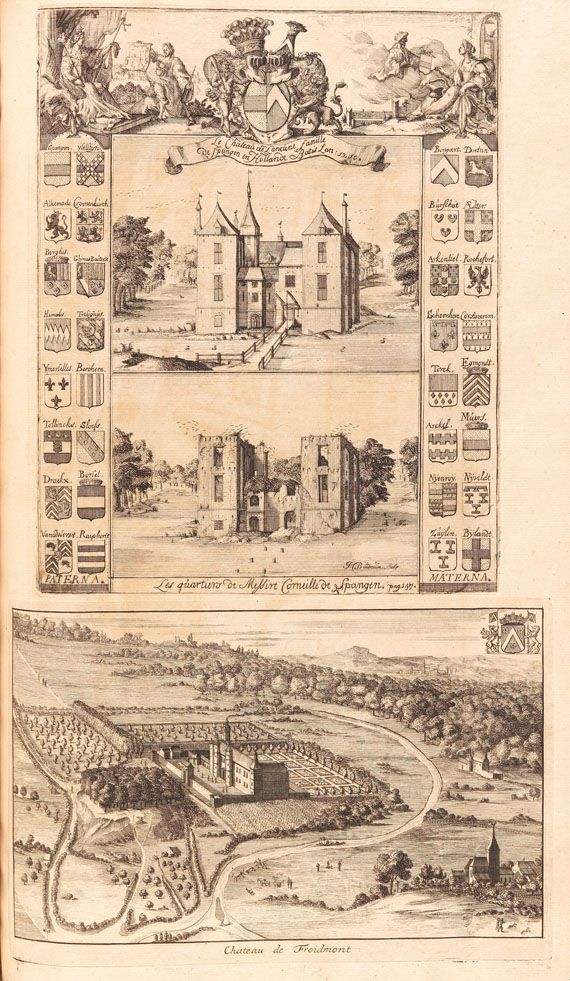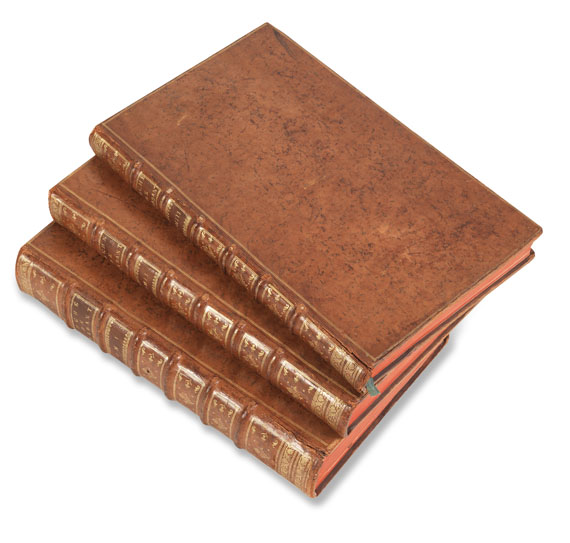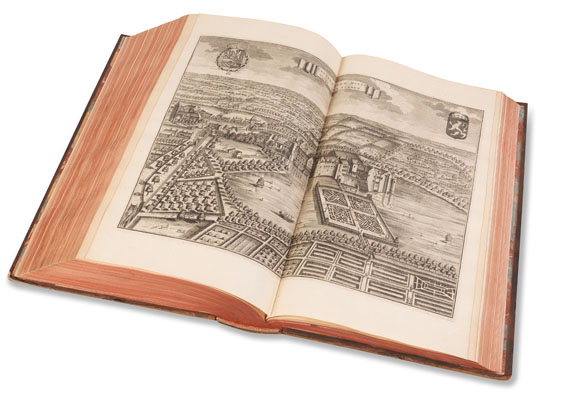 You might also be interested in