Sale: 405 / Rare Books, May 27./28. 2013 in Hamburg

Lot 63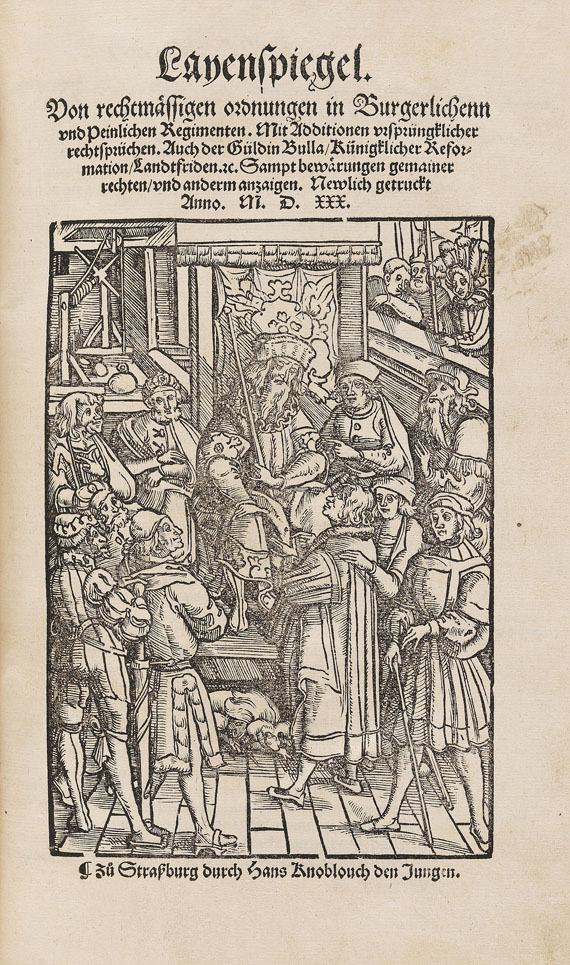 63
Der richterlich clagspiegel. 1529
Estimate:
€ 3,500 / $ 3,710
Sold:

€ 3,000 / $ 3,180
(incl. 20% surcharge)
Brant, S., Der richterlich clagspiegel Eyn nutzlicher begriff, wie man setze(n) und formieren sol nach ordnu(n)g der Rechten .. Wider durchsichtiget, und von neuwem zum theyl gebessert. Mit großem Titelholzschnitt , figürl. Holzschnittbordüre auf der Titelrückseite, 2 Textholzschnitten (1 blattgr.) sowie Holzschnitt-Druckermarke am Ende. Hagenau, W. Seltz für P. Götz 1529. 8 nn., 151 röm. num. Bll., 1 nn. Bl. - Angeb.: (Tengler, U.) , Layenspiegel. Von rechtmässigen ordnungen in Burgerlichenn und Peinlichen Regimenten. Mit Additionen ursprüngklicher rechtsprüchen .. Newlich getruckt. Mit großem Titelholzschnitt von Hans Weiditz und 26 Textholzschnitten (tlw. wdh.) sowie 7 schemat. Holzschnitten . Straßburg, H. Knobloch 1530. 8 nn., 151 röm. num. Bll., 5 nn. Bll. (d. e. w.). - Zeitgenöss. Kalblederband über Holzdeckeln mit reicher Blind- und floraler Rollenprägung sowie 2 Messing-Schließbeschlägen. 32 : 21 cm.

Zwei berühmte, mit schönen Holzschnitten illustrierte Werke der Rechtsliteratur in einem zeitgenöss. Holzdeckelband.\b
I: Einziger Hagenauer Druck von Brants erstmals 1516 erschienener Neubearbeitung des Klagspiegels . "Das erste Rechtsbuch, das in deutscher Sprache römisches Recht lehrt .. [Es] besteht aus zwei in sich geschlossenen Teilen oder 'Traktaten'. Der erste Teil behandelt das Zivilrecht, der zweite zum ersten Mal in Deutschland auch das Strafrecht und den Strafprozeß nach römisch-rechtlichen Grundsätzen." (Kaspers) - VD 16, B 7089. - Index Aurel 123.704. - Benzing, Hagenau 112, 7. - Kaspers S. 121ff.
II: Der 1509 erstmals erschienene Laienspiegel, die Ergänzung zum Klagspiegel , wurde 1511 in erweiterter und überarbeiteter Fassung von Seb. Brant herausgegeben und beherrschte in der Folgezeit über 50 Jahre lang die juristische Praxis. "Das, was der Verfasser anstrebte, nämlich der Praxis einen Leitfaden in die Hand zu geben, der die durch den Einbruch des römischen Rechts dort geschaffene Verwirrung und Unsicherheit beseitigte, hat der Laienspiegel voll erfüllt" (Kaspers). - VD 16, T 346. - Muller 389, 34. - Goedeke I, 391, 32. - Kaspers S. 123f.
Zustand: Stellenw. schwach gebräunt oder gering stockfleckig, vereinz. minim. fleckig, Titel von I mit Knickspur, vord. flieg. Vorsatz entfernt, Innengelenke verstärkt (Titel im Bundsteg betroffen), 1 Bl. mit Eckabriß. Kanten tls. etw. beschabt, Rücken unter Verwendung des urspr. Materials restauriert, bewegl. Schließenteile entfernt. Insges. gutes Exemplar.

Two famous law books in 1 volume. I: With title woodcut, fig. woodcut border, 2 woodcuts in text (1 fullpage) and woodcut printer's device at end. - II: With title woodcut by H. Weiditz, 26 woodcuts in text (partly rep.) and 7 schematic woodcuts. Contemp. calf over wooden boards, richly blind- and rollstamped with 2 brass fittings (movable parts lacking). - Some slight browning or foxing, here and there minim. stained, title of I with crease, front fly-leaf removed, inner hinges strengthened (affecting title at the gutter), 1 leaf with torn-off corner. Edges partly somewhat rubbed, spine restored using the old material. Good copy.



63
Der richterlich clagspiegel. 1529
Estimate:
€ 3,500 / $ 3,710
Sold:

€ 3,000 / $ 3,180
(incl. 20% surcharge)
Sebastian Brant - lots sold by Ketterer Kunst