Sale: 385 / Rare Books, Nov. 21. 2011 in Hamburg

Lot 698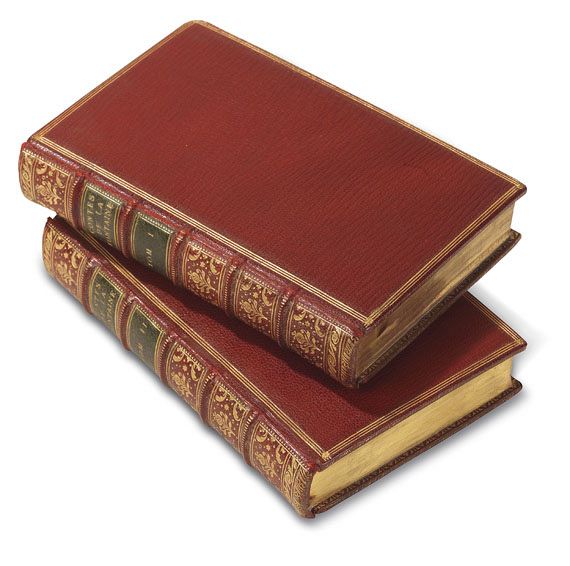 698
Contes et nouvelles en vers. 2 Bde. (1762)
Estimate:
€ 2,000 / $ 2,280
Sold:

€ 3,480 / $ 3.967
(incl. 20% surcharge)
Lot description
La Fontaine, (J.) de, Contes et nouvelles en vers. 2 Bde. Mit 2 gest. Porträts, 2 gest. Titelvignetten und 80 Kupfertafeln von Aliamet, Baquoy, Choffard, Delafosse u. a. nach Eisen und zahlr. gest. Vignetten von Choffard sowie einer Extrafolge von 22 Kupfertafeln . Amsterdam [Paris, Barbou] 1762. Zeitgenöss. rote Maroquinbände mit reicher floraler RVerg. und dopp. grünem RSch., dreif. goldgepr. Deckelfilete, Steh- und Innenkantenverg. sowie blauen Seidenmoirée-Vorsätzen und Ganzgoldschnitt. 8vo. XIV S., 1 Bl., 268 S.,1 Bl.; 1 Bl., VIII, 306 S., 2 Bll., S. (9)-16.

Rochambeau 79. - Hédé-Hauy S. 20ff. - Cohen/Ricci Sp. 558ff. (ausführl.) - Lewine S. 278. - Sander 1044. - Fürstenberg Kat. 50. - Schönes Exemplar der berühmten "Édition des Fermiers-généraux", so benannt nach den das Unternehmen finanzierenden Generalpächtern. Mit den Tafeln und Vignetten von Eisen und Choffard ein Höhepunkt der französischen Rokoko-Buchkunst . "Superbe édition, au point de vue iconographique et typographique .." (Rochambeau). - "Die Sorgfalt, die Grazie, das Abwägen jeden Effektes, das Spielerische in der Eleganz sind hier von Eisen in ganz ungewöhnlichem Maße mit einer kraftvollen Anordnung vereinigt und bilden einen harmonischen Akkord. Dieses Buch hat Schule gemacht und für die Entwicklung der Buchillustration im Zeitalter Ludwigs XVI. eine ausschlaggebende Bedeutung gehabt" (Fürstenberg S. 91). - "Contains some of the most notable French illustrations of the eighteenth century. Eisen's plates rank among his best work .. Choffard's etchings are exquisite" (Salomons). - Hier vorliegend ein angereichertes Exemplar mit der Extrafolge verworfener Tafeln . "Nous signalerons encore les planches refusées, qui se rencontrent souvent dans les collections .." (Rochambeau). - Mit den oft fehlenden, separat pag. Buchbinderanweisungen für Bd. II (S. 9-16), diejenigen für Bd. I fehlen (S. 1-8) . - Schwach gebräunt und vereinz. gering fleckig, sonst prachtvoll erhalten.

Beautiful and enriched copy of this magnificently illustrated edition. Contains 2 engr. portraits, 2 engr. title-vignettes, 80 copperplates after Ch. Eisen and numerous engr. vignettes by Choffard. Further with extra-suite of 22 refused copper-plates. 2 volumes. Contemp. red morocco with richly gilt spine, 2 labels, gilt fillets, inside gilt border, gilt edges and blue silk moiré endpapers. - Without pp. 1-8 of the mostly lacking instructions for the bookbinder. Minor browning, here and there slight staining, else well-preserved.


698
Contes et nouvelles en vers. 2 Bde. (1762)
Estimate:
€ 2,000 / $ 2,280
Sold:

€ 3,480 / $ 3.967
(incl. 20% surcharge)
More Images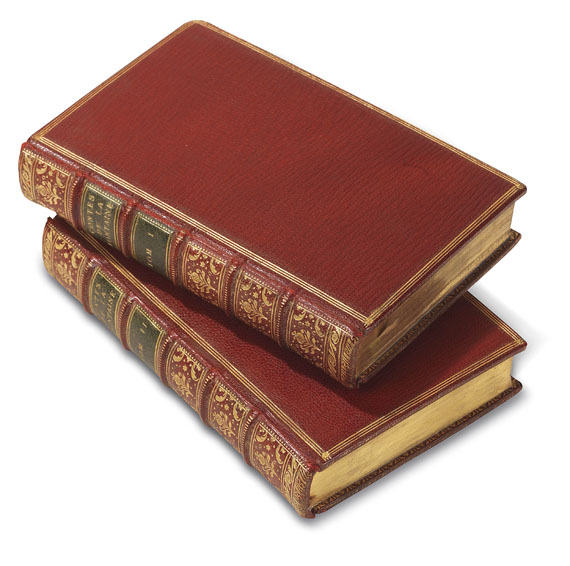 Cover
More offers for Jean de La Fontaine

You might also be interested in

Jean de La Fontaine - lots sold by Ketterer Kunst