Sale: 379 / Rare Books, May 23. 2011 in Hamburg

Lot 7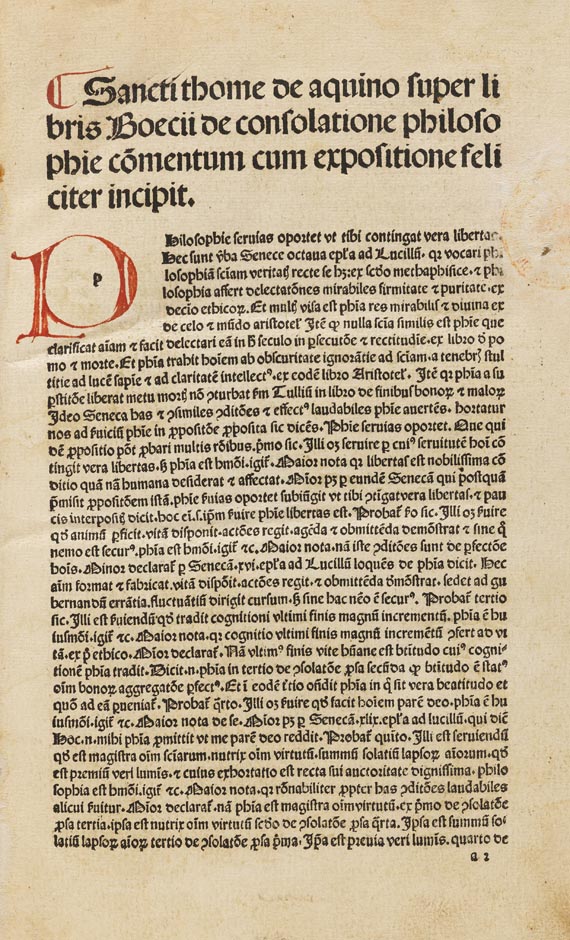 7
Anicius Manlius S. Boethius
De consolatione philosophiae., 1484.
Estimate:
€ 6,000 / $ 7,020
Sold:

€ 6,000 / $ 7.020
(incl. 20% surcharge)
Lot description
Boethius, A. M. S., De consolatione philosophiae. Mit Kommentar des Pseudo-Thomas de Aquino. Mit eingemalten Lombarden in Rot . [Lyon, Guillaume Le Roy, vor 24. Dez. 1484]. HPgt. d. 19. Jhs. Folio. 166 nn. Bll. (ohne d. erste u. letzte w. Bl.). Got. Type, Text von Kommentar umgeben, 45 Zeilen.

Hain/Cop. 3418. - GW 4535. - Goff B 779. - BSB B-599. - Polain 723. - Nicht im BMC. - Lagengetreuer Nachdruck der Genfer Ausgabe um 1480 bei Jean Croquet. Der Kommentar wird von GW dem Dominikaner Thomas Waleys (14. Jh.) zugeschrieben. Schöner Scholiendruck des berühmten Werkes, das zu den meistgelesensten und beliebtesten Schriften des Mittelalters gehört. "Die Trostschrift gehört zum Schönsten, was am Ausgang des Altertums zu Pergament gebracht worden ist. Sie stammt von einem Mann, der gleichermaßen sicher auf dem Boden der klassisch-griechischen wie der klassisch-lateinischen Bildung stand und der wegen seiner reinen, durch Eleganz und Korrektheit bestechenden Sprache als der letzte Klassiker gilt." (KLL) - Ohne die 1485 gedruckte Schrift De disciplina scholarium des Pseudo-Boethius, mit dem die vorlieg. Ausg. häufig zusammen ausgegeben wurde. - Tlw. etw. wasserandig, vereinz. gebräunt und gering fleckig, wenige Randläsuren, erstes Bl. mit Stempelrasur. Vorsätze erneuert. Sonst gutes und breitrandiges Exemplar mit einigen zeitgenöss. Marginalien.

Scarce Lyons edition by Le Roy, not in BMC. Nice printing with commentary surrounding the text. 166 nn. leaves (lacking first and last blank). Gothic type, 45 lines with red painted lombards. 19th cent. half vellum. - Copy without the separate Pseudo-Boethius from 1485 which is often bound together. - Partly some waterstaining, here and there some browning or minor staining, few marginal defects, erased stamp to first leaf, endpapers renewed. Else good copy with wide margins and contemp. marginalia.


7
Anicius Manlius S. Boethius
De consolatione philosophiae., 1484.
Estimate:
€ 6,000 / $ 7,020
Sold:

€ 6,000 / $ 7.020
(incl. 20% surcharge)
More Images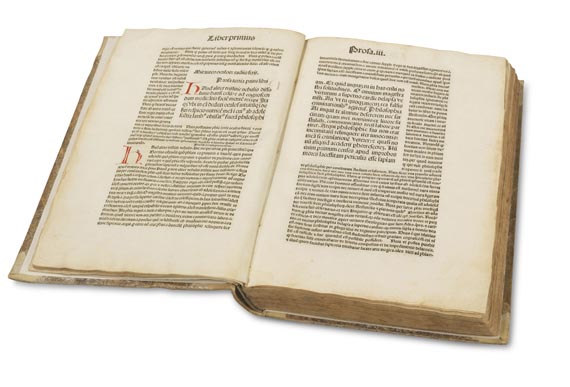 You might also be interested in

Anicius Manlius S. Boethius - lots sold by Ketterer Kunst