Sale: 373 / Rare Books including Marine Art, Nov. 22. 2010 in Hamburg

Lot 11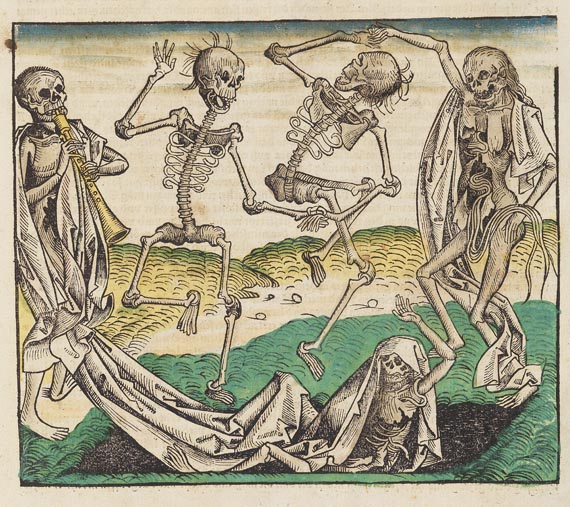 11
Weltchronik. 1493 (koloriert, dt. Ausgabe)
Estimate:
€ 50,000 / $ 55,000
Sold:

€ 259,600 / $ 285,560
(incl. 18% surcharge)
Schedel, H., Das Buch der Chroniken und Geschichten. Mit 2 doppelblattgr. altkolor. Holzschnittkarten und über 1800 altkolor. Textholzschnitten (tlw. wdh.) von M. Wohlgemuth und W. Pleydenwurff sowie 1 eingemalten Zierinitiale mit Blattgold. Nürnberg, Anton Koberger, 23. Dez. 1493. Zeitgenöss. Schweinslederband über starken Holzdeckeln auf 4 Bünden mit mehrfacher Rollenprägung und rautenförmigem Mittelfeld aus Streicheisenlinien, Deckel mit 8 (von 10) Messing-Buckelbeschlägen sowie 2 Messing-Schließbeschlägen. Gr.-Folio. 10 nn., 286 num., 1 nn. Bll. Got. Type. 59 Zeilen.

Hain 14510. - Goff S-309. - BMC II, 437. - Polain 3471. - Schramm XVIII, S. 9. - Muther 424. - Rücker S. 143. - Erste deutsche Ausgabe, sechs Monate nach der lateinischen Originalausgabe erschienen. Eines der seltenen Exemplare der deutschen Ausgabe in kräftigem Koberger-Kolorit. Vollständiges und breitrandiges Exemplar von guter Erhaltung.
Schedels Weltchronik ist das "größte Buchunternehmen der Zeit" (Rücker) und die am reichsten illustrierte Inkunabel überhaupt. Die künstlerisch hochrangigen Holzschnitte stammen von dem deutschen Maler und Holzschneider W. Pleydenwurff und dessen Schwiegervater M. Wohlgemuth, in dessen Nürnberger Werkstatt auch Albrecht Dürer lernte. Der bis heute anhaltende Ruhm der Weltchronik beruht hauptsächlich auf dieser opulenten künstlerischen Ausstattung, bei der Wort und Bild sich einzigartig ergänzen und eine wohlbedachte, ausgewogene Einheit bilden. Unter den prachtvollen Abbildungen sind die zahlr. Städteansichten von besonderem Interesse, da sich hier, neben bloßen Phantasieansichten, die ersten authentischen Ansichten deutscher Städte finden, darunter Augsburg, Bamberg, Breslau, Köln, Konstanz, Lübeck, München, Nürnberg, Passau, Prag, Regensburg, Salzburg, Ulm, Wien, Würzburg u. a. Besonders erwähnenswert die doppelblattgr. Holzschnitt-Weltkarte nach Pomponius Mela zu Beginn und die doppelblattgr. Deutschlandkarte von Hieronymus Münzer am Ende, die älteste gedruckte Karte von Deutschland.
Provenienz: Innendeckel mit sehr schöner blattfüllender Wappenmalerei des 16. Jahrhunderts . Es handelt sich um das Wappen der Nürnberger Familie von Geisendorf gen. Groesser (vgl. Kneschke, Dt. Adelslex., Bd. III, S. 467 und Siebmacher, Wappenbuch, 7. Suppl., Tafel 14). - Am Oberrand ferner mit hs. Monogramm "B L S - 1618". - Laut Auskunft des Vorbesitzers und einem beilieg. Dokument war das Buch im 19. und 20. Jh. im Besitz eines Baden-Württembergischen Pfarrhauses.
Zustand: Gering fleckig (meist im Rand) und gegen Ende mit Wasserrand im Kopfsteg, tls. mit kl. Randläsuren, ca. 4 Bll. mit längerem Einriß, davon 2 alt hinterlegt und 1 mit etw. Bildverlust (von alter Hand ergänzt und kol.). Einbd. etw. fleckig und mit Feuchtigkeitsspur am ob. Deckel, Bezug an den ob. Kanten aufgeplatzt, Rücken mit Fehlstellen am ob. Kapital und am ob. erhabenen Bund, 1 Mittelbeschlag gelöst, 2 Eckbeschläge mit Fehlstelle. Insgesamt gut erhaltenes Exemplar im ursprünglichen Zustand und mit sehr breiten Rändern (Blattgr. 47,4 : 32 cm), das Kolorit leuchtend und frisch.

First German edition, a scarce complete copy in beautiful coloring by Koberger's printing shop. With 2 woodcut maps and about 1800 woodcut illustrations depicting numerous portraits, views etc. Many of them are the first printed views of these towns and the earliest with exact topographic details. Contemp. pigskin over strong wooden boards, richly blind- and roll-stamped and with 8 (of 10) brass corner pieces and 2 brass catches. - Slight staining (mostly in margins), towards end waterstain to upper margin, partly with small marginal defects, ca. 4 leaves with longer tear (partly rebacked, 1 slightly affecting a woodcut, copied by old hand). Binding somewhat stained and with traces of damp at upper edge, covering burst at upper edge, upper spine end chipped, 1 brass fitting detached, 2 corner pieces with blemishes. In general well-preserved and unsophisticated copy with broad margins (sheet size 47,4 : 32 cm), the coloring fresh and bright. Pastedown with finely painted full-page coat-of-arms of the Nuremberg family Geisendorf from the 16th century.


11
Weltchronik. 1493 (koloriert, dt. Ausgabe)
Estimate:
€ 50,000 / $ 55,000
Sold:

€ 259,600 / $ 285,560
(incl. 18% surcharge)
Hartmann Schedel - lots sold by Ketterer Kunst