Sale: 391 / Rare Books, May 21. 2012 in Hamburg

Lot 15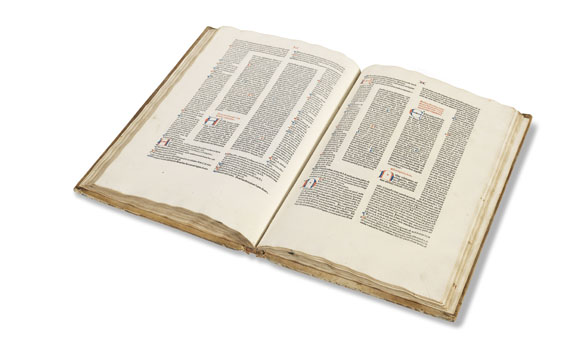 15
Institutiones. Ca 1478-80.
Estimate:
€ 18,000 / $ 21,060
Sold:

€ 16,800 / $ 19.656
(incl. 20% surcharge)
Lot description
Justinianus, Institutiones. Mit der Glossa ordinaria des Franciscus Accursius. Mit Fleuronné-Initiale in Rot und Blau zu Beginn, zahlr. eingemalten Initialen in Rot und Blau sowie Alineazeichen (Satzanfänge) und Kolumnentitel (Buchnummer) alternierend in Rot und Blau. [Venedig], Nicolaus Jenson [ca. 1478-80]. Pergamentband des 16. Jhs. auf 4 Bünden und über starken Holzdeckeln, Innendeckel mit Pgt.-Spiegel. Folio (44,5 : 29 cm). 81 nn. Bll. (ohne das letzte weiße Bl.). Zweispaltiger Scholiendruck. 70 Zeilen (Kommentar), mit Initialspatien.

GW 7595. - Hain/Cop. 9488. - Goff J 519. - BSB C-641. - Nicht im BMC, nur 2 Exemplare in USA und 1 Expl. in Italien (vgl. ISTC). - Zweite oder dritte Ausgabe in Venedig. Die Editio princeps erschien 1468 bei Schöffer in Mainz. - Die unter Justinian entstandenen Institutiones dienten über Jahrhunderte den Studenten und Gelehrten als elementare Einführung in das Studium des römischen Rechts. Sie bilden den dritten Teil des Corpus Juris Civiles , neben den Pandekten und dem Codex Justinianus , die zwischen 1477 und 1480 ebenfalls von Jenson gedruckt wurden. - Gegen Ende im Kopfsteg gering wasserrandig, sonst meist in den breiten Rändern unbedeut. fleckig, 1 Bl. mit Randeinriß, tls. mit 2 frühen Nadelspuren in der ob. und unt. Ecke. Zu Beginn mit Marginalien einer Hand d. 16./17. Jhs., vereinz. alte Fingerzeiger. Flieg. Vorsatz, Titel und Bl. b1 mit Wappenstempel der Bibl. Bredensis (19. Jh.). Gelenke und Rücken tls. mit Einrissen, RDeckel mit wenigen Kratzspuren, Rücken mit schwarzgepr. Titel d. 19. Jhs., flieg. Vorsätze erneuert. Insgesamt prächtiger Scholiendruck, schönes und breitrandiges Exemplar auf starkem Papier , aus der Sammlung Eduardo J. Bullrich (Ldr.-Exlibris), später Ned J. Nakles (Christie's New York, 17. IV. 2000, Lot 100).

Second or third edition in Venice. Editio princeps published by Schöffer in Mainz in 1468. With fleuronné initial in red and blue at beginning, numerous initials in red and blue, pilcrows and page headers alternating in red and blue. 16th century vellum binding on 4 bands over strong wooden boards, pastedown with vellum. Folio (44,5 : 29 cm). 81 unnumb. ll. (lacking last blank). Scholion printing in two columns. 70 lines (commentary). - Slightly water-stained in head margin towards end, else with only discernible stains in broad margin, 1 l. with marginal split, partly with 2 early pinholes in upper and lower corner. With marginalia by a 16th/17th century hand at beginning, isolated old pointers. Flying endpaper, title and l. b1 with armorial stamp of Bibl. Bredensis (19th century). Joints and spine with isolated splits in places, rear board with few scratches, spine with black-tooled 19th century title, flying endpapers renewed. All in all splendid scholion print, fine and broad-margined copy on strong paper, from the collection Eduardo J. Bullrich (calf bookplate), later Ned J. Nakles (Christie's New York, 17 July, 2000, lot 100).


15
Institutiones. Ca 1478-80.
Estimate:
€ 18,000 / $ 21,060
Sold:

€ 16,800 / $ 19.656
(incl. 20% surcharge)
More Images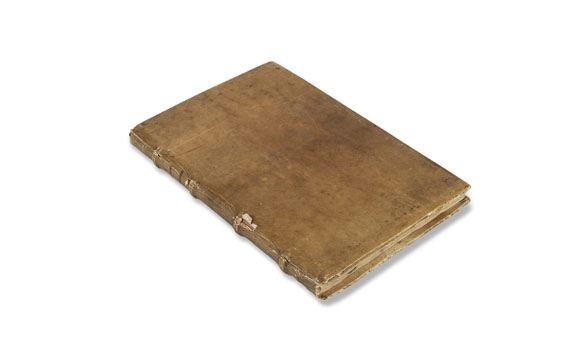 Cover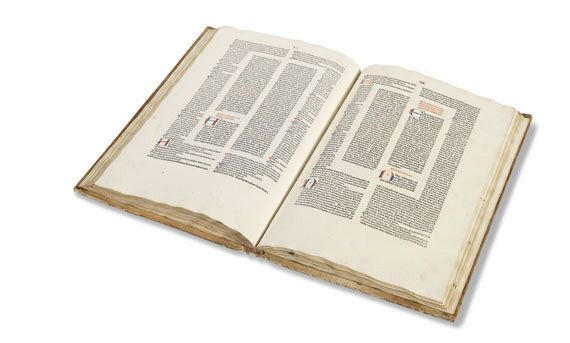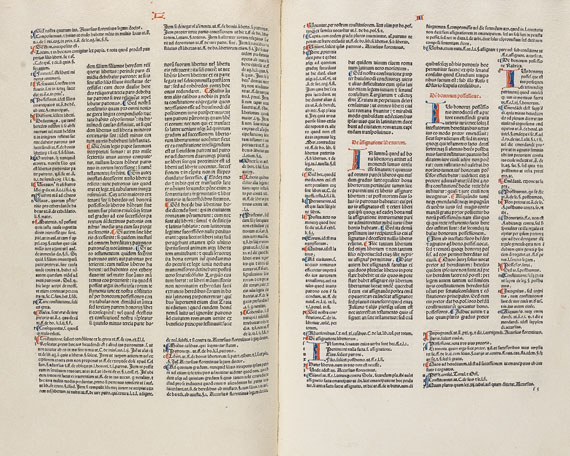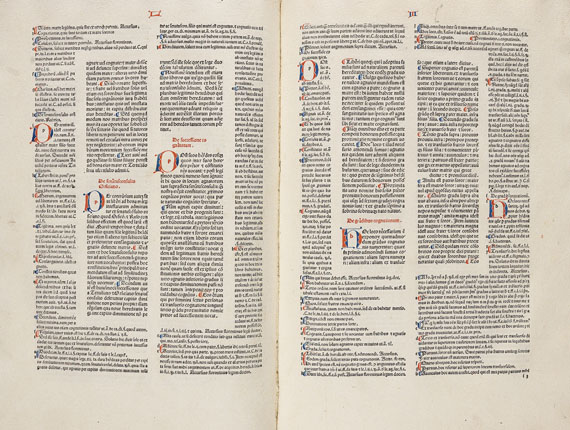 You might also be interested in

Justinianus - lots sold by Ketterer Kunst