Sale: 391 / Rare Books, May 21. 2012 in Hamburg

Lot 25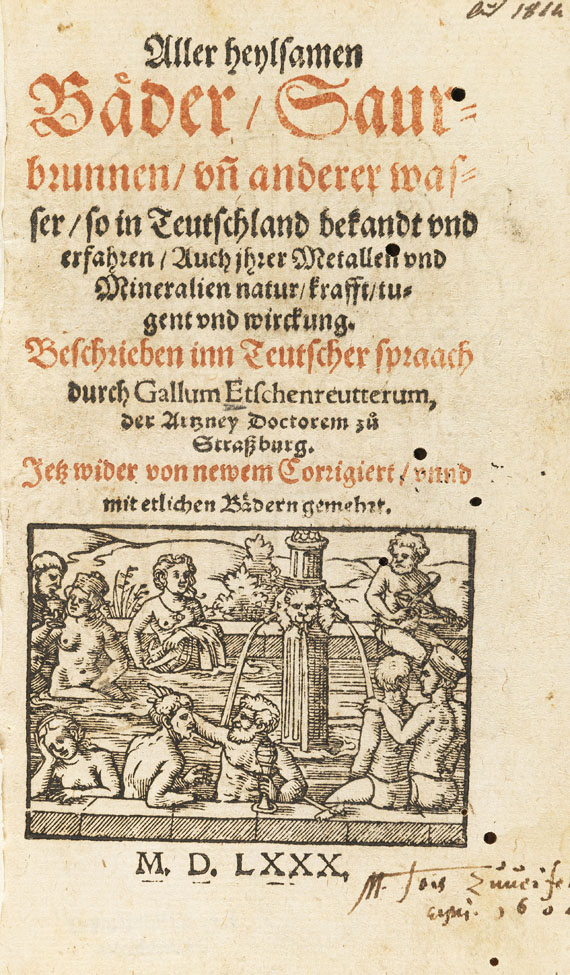 25
Aller heylsamen Bäder Saurbrunnen. 1580.
Sold:

€ 672 / $ 786
(incl. 20% surcharge)
Lot description
Etschenreuter, G., Aller heylsamen Bäder, Saurbrunnen und anderer wasser so in Teutschland bekandt und erfahren, auch ihrer Metallen und Mineralien natur, krafft, tugent und wirckung. Beschrieben in teutsche spraach. Jetzt wider von newem corrigiert unnd mit etlichen Bädern gemehrt. Mit kl. Titel-Holzschnitt (Badeszene), 2 ganzseit. Wappenholzschn. und Holzschnitt-Druckermarke. (Straßburg, Chr. Müller Erben) 1580. Pp. d. 18. Jhs. Kl.-8vo. 8 Bll., 192 S., 24 Bll.

VD 16, W 3539. - Durling 1404. - Muller S. 612. - Vgl. BM STC, German Books S. 287 und Waller I, 2824 (E. dt. A 1571). - Nicht bei Adams. - Zweite erweiterte deutsche Ausgabe. - Seltener kleiner Führer für Heilbäder in deutschen Landen. Mit einem umfangreichen Register alle Krankheiten, die durch das Baden kuriert werden können. - Gallus Etschenreuter war Arzt in Schlettstadt. - Durchgehend mit vereinz. kl. Wurmlöchern, zu Beginn und in der zweite Hälfte unten wasserrandig, 1 Wappenholzschnitt mit kl. Bibliotheksstempel. Ein Außengelenk oben leicht eingerissen. - Exlibris Philipp Heinrich Boecler (vgl. Hirsch/Hüb. I, 592).

Second increased edition of the rare small guide for German spas. With small titlwe woodcut, 2 full-page armorial woodcuts and wodocut printer's device. 18th century boards. - With small isolated wormtracks all the way through, with water stains at bottom of beginning and of second half, 1 armorial woodcut with small library stamp. One outer joint slightly split. - Ex-libris Philipp Heinrich Boecler (cf. Hirsch/Hüb. I, 592).


25
Aller heylsamen Bäder Saurbrunnen. 1580.
Sold:

€ 672 / $ 786
(incl. 20% surcharge)
More Images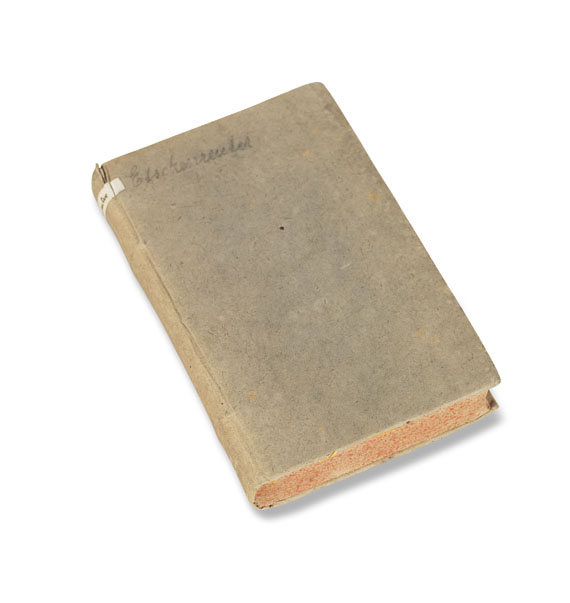 Cover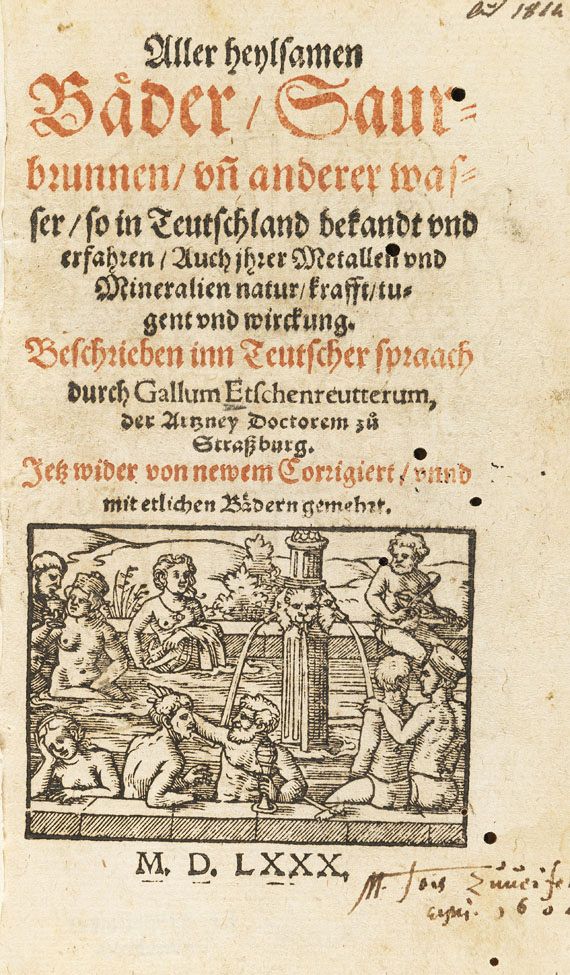 You might also be interested in