Sale: 405 / Rare Books, May 27./28. 2013 in Hamburg

Lot 432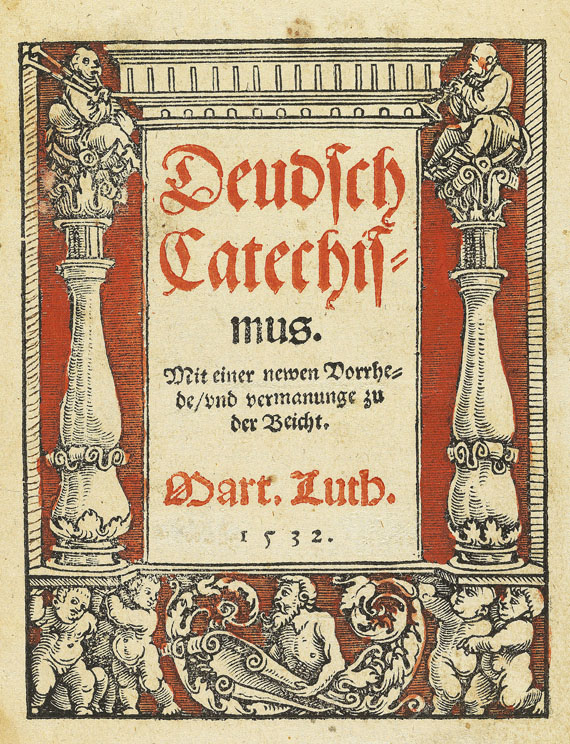 432
Deudsch Catechismus. 1532.
Estimate:
€ 9,000 / $ 8,460
Sold:

€ 8,400 / $ 7,896
(incl. 20% surcharge)
Luther, M., Deudsch Catechismus. Mit einer newen Vorrhede, und vermanunge zu der Beicht. Mit altkolor. figürl. Holzschnitt-Titelbordüre und 25 (19 ganzseit.) Textholzschnitten, davon 2 altkoloriert und 5 teilkoloriert; ferner 11 figürl. Leisten in Metallschnitt (1 ankoloriert). Wittenberg, G. Rhau 1532. Neuer Pp. 8vo. 1 nn. Bl., 134 (recte 125) röm. num. Bll., 1 nn. Bl.

Frühe und äußerst seltene illustrierte Ausgabe des sog. Großen Katechismus, der 1529 durch Georg Rhau erstmals verlegt wurde. Die erste mit Holzschnitten versehene Ausgabe erschien noch im gleichen Jahr, vorliegend die 7. illustrierte Ausgabe insgesamt. - Der Große Katechismus, das Grundlagenwerk der evangelischen Kirche, will dem Gläubigen und auch dem Laien die wesentlichen Elemente des protestantischen Glaubens vermitteln. Durch Luther wurde das Wort Katechismus nicht mehr nur auf die Inhalte und Formen des Katechismus angewendet, sondern Katechismus wurde die Bezeichnung für den gedruckten Leitfaden der Katechese. - Die hübschen Holzschnitte, die von Zimmermann (Beiträge zur Bibelillustr. , S. 41) dem Monogrammisten AW zugeschrieben werden, illustrieren die Zehn Gebote, das Vaterunser und die drei Glaubensartikel. - Tlw. minim. fleckig und vereinz. etw. wasserrandig, 2 Bll. knapp beschnitten (Buchstabenverlust der gedruckten Noten), Buchblock leicht angebrochen. Einbd. etw. angeschmutzt. Insges. guterhaltenes Exemplar, von zeitgenöss. Hand mit Fingerzeigern und einigen Unterstreichungen in blaßroter Tinte versehen. Aus der Sammlung des Bibliographen John Landwehr (Exlibris im Innendeckel).

VD 16, L 4348. - Benzing 2560. - Nicht im BM STC und bei Adams.

Early and extremely scarce illustrated edition, first printed 1529. With fig. woodcut title-border in contemp. red coloring, 25 (19 fullpage) woodcuts in text (2 colored and 5 partly colored by contemp. hand), as well as 11 fig. metalcut borders. Mod. cardboards. - Some minim. staining, here and there some waterstaining, 2 leaves cropped close (loss of letters of the printed notes), binding slightly soiled. In general well-preserved copy with maniculae and underscorings by contemp. hand. From the collection of J. Landwehr.


432
Deudsch Catechismus. 1532.
Estimate:
€ 9,000 / $ 8,460
Sold:

€ 8,400 / $ 7,896
(incl. 20% surcharge)
You might also be interested in
Martin Luther - lots sold by Ketterer Kunst